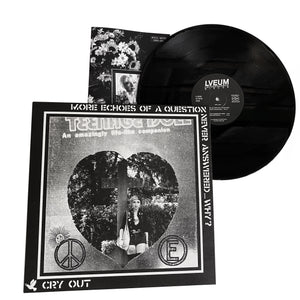 RIP Rosie Davis.

LVEUM was working on releasing CRY OUT 12″ by the time I heard the terrible news of Rosie passing away. After much thinking I decided that the best way to remember Rosie the way she was would be by releasing the record. At the time of her passing the recording wasn't finished, neither was the artwork. I am still working on the artwork but as of now, July 11th, the record has already been cut and it is at the pressing plant. I expect to have the record ready in 5-6 weeks but please if you order it be patient as artwork may delay it.

For the Canadians reading this, there will a very big chunk of the press going directly to Montreal and Halifax.

Profit of the record and downloads will be sent to Rosie's family.


Our take: Cry Out is a solo project from Rosie Davis, a Canadian musician who passed away earlier this summer. More Echoes… was a work in progress when she passed, and from what I understand, La Vida Es Un Mus had already planned on releasing it, and helped coordinate the record's completion so it could get an official release. It's an outstanding record, and I'm happy to have it, though sad to know that we won't get to hear more. Cry Out takes a lot of inspiration from classic anarcho punk (the cover art and the track "Fucked Silly" both reference Crass's Penis Envy album, for instance), but its sound spans that genre's eclectic breath, even traveling outside it a bit for "Garden Song," which (as LVEUM's description notes), recalls Sad Lovers and Giants' gloomy and melodic post-punk. "Your Shame Not Mine" has all of Crass's punk experimentalism, "War Aesthetic" is a catchier punk track in the Crisis / Zounds mode, and "Fucked Silly" is a jittery, upbeat song a la Crass's early records. While these are reference points, More Echoes doesn't feel like an imitation, but an attempt to summon the same muses, and the primitive recording and drum machines also give it a unique flair. There's a lot packed into these 11 minutes.