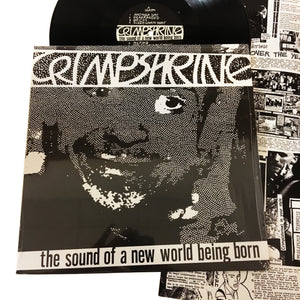 Before Green Day, Operation Ivy, and Lookout Records put the East Bay's burgeoning punk scene on the map, a trio of Berkeley kids were reinventing the genre with music that was melodic but full of feedback, and a singer who sounded like he gargled glass. Crimpshrine's debut EP was Lookout's fourth release, followed by an album, a second EP, and a slew of split singles and compilation tracks before the band imploded in 1989 after a ridiculous two-and-a-half-month tour in a Ford Pinto hatchback.
Formed around teenage binary stars Jeff Ott and Aaron Cometbus, Crimpshrine went through a series of lineups in their four-year run, utilizing future Tilt and Go Sailor bassists Pete Rypins and Paul Curran, and briefly including second guitarist Idon Bryant. Not overtly political, their fiery brand of introspective punk touched on homelessness, teenage pregnancy, drug use, friendship, isolation, and a grimy sort of romance.
Sound Of A New World Being Born compiles their Lookout singles like "Sleep What's That "and Quit Talkin' Claude EP with a handful of compilation and split 7" tracks. In cooperation with the band, Numero remastered the 16-track album and freshened up the accompanying poster to make the perfect legacy edition of this '80s punk classic.