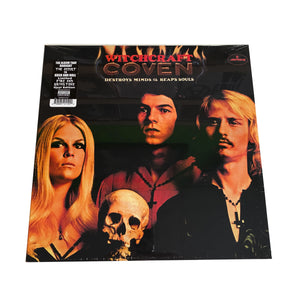 Real Gone Music has reissued a lot of "cult" albums over the years but of all the releases they've put out, this is the cult-iest of them all. That's because it's actually an occult album, the first record to bring Satanic themes to rock music. The upside down crosses, the "devil's horns" hand's signs that are commonplace with metal bands both past and present...they all started here. Coven even had a bassist named Oz Osborne...and the first track on the album was entitled "Black Sabbath," for heaven's sake! So there's no question that this 1969 album dealt with the devil first.
Formed in the mid-'60s by then-teenaged vocalist "Jinx" Dawson, drummer Steve Ross, and the aforementioned Mr. Osborne in the mid-'60s, Coven began attracting attention while opening for bands like Alice Cooper, the MC5, and The Yardbirds both for its dark psychedelic sound and for its wholehearted, unrepentant embrace of sex and Satan. During each performance, Dawson – whose vocals are somewhat reminiscent of Grace Slick with a snarl – would extend her fingers in the now-familiar devil's horns gesture while a roadie would be hung on an upside-down cross. The band caught the eye of Chicago-based producer Bill Traut, who had formed a label named Dunwich. Traut brought songwriter Jim Donlinger on board to contribute material, and ushered Coven into the studio to record Witchcraft.
The result was a truly one-of-a-kind record. While subsequent bands exploited demonic imagery and occult themes for commercial success and sensationalism, Coven were true (un)believers. Thus, the last track on the album, "Satanic Mass," is a full Black Mass, the only recording of its kind, while the double-gatefold album jacket – which has been faithfully reproduced here  – not only displays a picture of a naked Dawson splayed across a ritualistic altar surrounded by hooded members of the band and its associates, but also includes the full text of a Black Mass along with lyrics to the unabashedly Satan-worshipping songs.
In the end, Witchcraft was a little too far ahead of its time; coming out in 1969, at the height of hysteria about Satanism whipped up by the Manson Family murders, the album generated a firestorm of reaction, which turned into an inferno when Manson himself was photographed holding a copy of the record. The album was recalled, Dunwich withdrew support, and the band bounced around a couple of other labels before going on hiatus in 1976. But Coven remains a crucial, if under recognized, influence on hard rock and heavy metal. Whether approached as a cultural artifact, a totemic fetish, a camp classic, or just really cool music, it will cast a spell on you!