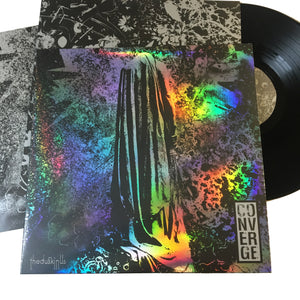 Five years since their last release, Converge return with The Dusk In Us, a brutal but beautiful album that shows the band's artistic evolution while still capturing their classic sound. The ninth full-length from the Boston-based heavy-music innovators proves to be both dark and hopeful, abrasive and melodic, devastating and powerfully cathartic. In recording The Dusk In Us, Converge once again worked in Kurt Ballou's renowned Godcity Studios in Salem, MA. Produced by the band and mixed by Ballou, the album matches its raw energy with a subculture-crossing inventiveness that's earned Converge longtime reverence within the punk, metal, and hardcore scenes.
One of Converge's most dynamic and avant-garde albums to date, The Dusk In Us unfolds with an uncompromising honesty born from "writing about experiences in my life and working through the complexities of those things through song," as Bannon explains. On the album-opening "A Single Tear," pummeling drums and caustic riffs form the backdrop to strikingly vulnerable lyrics. With its abrasive guitar work and menacing undertones, "Under Duress" brings a tortured howl to lyrics channeling what Bannon calls, "an emotional reaction to the complex world in which we live." A frenzied blast of pure fury, "I Can Tell You About Pain" offers what NPR hailed as "hardcore-fueled extreme music that simultaneously elevates and destroys." And on the 7-minute-plus title track, Converge deliver a slow-building, quietly haunting epic of ethereal beauty.
While The Dusk In Us finds Converge defying boundaries and pushing into new sonic terrain, it's also a natural progression for a band that's long thrived on making music that both challenges and connects.