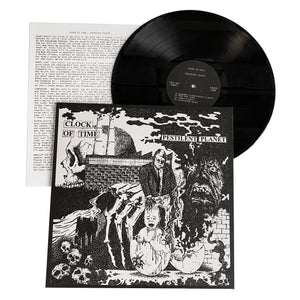 "Pestilent Planet is the debut 7 track album from Berlin's Clock of Time and it's released a mere 8 months after they played their first gig. The band comes fully formed and up to speed but that is not surprising considering some of the members other projects such as Diat, Vexx and Useless Eaters. Pestilent Planet is a stunning statement of intent. The sound is a driving mix of post punk like Jeopardy era The Sound, and that classic 80's death rock that Vex and Arch Criminals perfected. It's instant and urgent especially tracks like 'Rotten Master' which has a fuller Joy Division esque vibe especially in the skeletal guitar hook. It will be love on first listen." (Sean Forbes)

Pestilent Planet comes housed in a sleeve drawn and designed by Nicky Rat.


Our take: Clock of Time is a new band out of Berlin, and while they may seem to have come out of nowhere (Pestilent Planet is their first release, a mere 8 months after playing their first gig), the speed at which they move is unsurprising given the musicians' veteran status. Clock of Time features people from Diät, Vexx, and Useless Eaters, but it's Diät fans in particular who should get excited, because Clock of Time draws most heavily on that band's sound. That being said, while the vocals have the same gloomy, melodic quality as Diät and I could imagine "Companion" or "Rotten Master" appearing on one of their records, there are some differences. "Funny Farm" is a death rock dirge a la Part 1 whose grinding, mechanical rhythm builds tension past the point at which you feel you can't take it anymore, approaching a kind of auditory S&M. That sense of gloom (which, admittedly, was a big part of Diät too) permeates Pestilent Planet, making it feel more like a death rock record rather than a dark pop record a la the Chameleons… a subtle difference for sure, but one worth noting. If you like Diät (I love them), this is essential and you'll love it, but even if you never checked out that band, it's a great time to get in on the ground floor with Clock of Time.