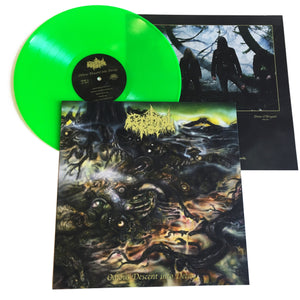 NOW AVAILABLE ON NEON GREEN VINYL!!! Continuing to extract the deadliest beings from the dankest corners of the Northwest, 20 Buck Spin summons from the festering swamp-soaked murk the revolting mutation that is Cerebral Rot. Like sewage winding its way through tunnels below the street, this music reeks with the stench of vulgarity and noxious body fumes.
Embalmed in an analog toxic dump, this debut, Odious Descent Into Decay, melts the skin with radioactive brutality and gurgling bursts of punishing cruelty. It's virulent subterranean death metal glistens with pustular fallout, with an obscure rotten air from being left too long on the morgue table—the skin peels off and the last gasp of life echoes terrifyingly within.
A rank abomination of disgust, the album relies not on over-technicality, but rather disfiguring physical violence and battering submission in its quest for the true embodiment of sub-underground death, morphing from one wet distorted monstrosity to another. Like the miserable mess of decayed forms on the cover, the septic sickness of Cerebral Rot has only just begun to spread.