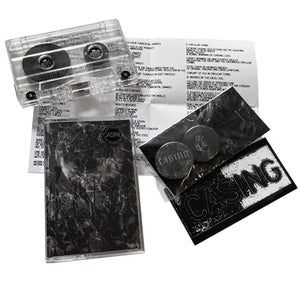 "Patterns of Deterioration" is a six song dive into depravity, nihilism, and desperation that instantly positions this new project among the most lauded voices in noise-punk, as well as strong links forged with grindcore, sludge and powerelectronics. 

What began as quarantine-era stagnation relief, birthed a solo, worship-project extending its corroding hands out to fans of the mired negativity of Dystopia, Column Of Heaven, and Intensive Care. No contrived nomenclature or genre positing can nail down what Alec Tullio (Maladia/Zek) is doing sonically with Casing, but the demeanor and ethos of a punk eschewing the confines of guitar-based music for noise is unmistakable. 

This EP immediately attracted the attention of both Super-Fi Records and Anthems of The Undesirable, and we are equally proud and excited to be working together to release Casing's debut both in Europe and in North America. Limited to 125 copies on clear (Anthems/US), grey (Tapes Of Wrath/Ireland), and red (Casing/UK) Dolby Stereo cassettes, with a full-color 3-panel J-card, lyric insert, two buttons, and an exclusive sticker. 

We love "Patterns of Deterioration," and are eager to share it with your all - but even moreso, we're excited to hear what Casing will do next.