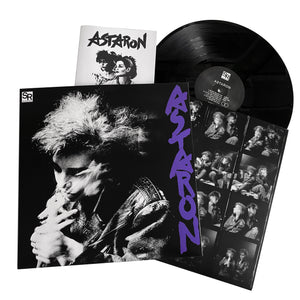 Astaron from Vienna Austria were a music and art performance duo made up of Angie Mörth (member of viele bunte Autos) and Martina Aichhorn who existed from 1984 to 1989. Influenced by the Viennese Actionism, Einstürzende Neubauten and Kate Bush and armed with a big dose of black humour and a true love for trash culture they created an impressively unique body of work. They released two DIY tapes, One 12" and this stunning self titled album at the tail end of 1987. It was originally released by local label Ton Um Ton Records in a criminally low pressing of 500 Copies. It's an unadjusted highly experimental and totally addictive dark wave album with hints of minimal post punk. The music ranges from dirgelike chants to ethereal pop to haunting ballads. It's pure melancholic beauty from start to finish. Think KUKL, Cocteau Twins, Young Marble Giants for the minimal sound, Brian Eno, Lizzy Mercier Descloux and Diamanda Galas.
Sealed Records are proud to give this haunting rhythmic and gorgeous album a new lease of life. This time adding a printed inner sleeve and 12 page booklet.


Our take: I hadn't heard of Astaron before Sealed Records reissued this, their sole LP from 1988, but after a few weeks of listening I'm ready to put myself in the "superfan" category. Astaron was two Austrian women who looked cool as hell (with a preppy goth fashion sense that reminds me of Strawberry Switchblade) and sounded even cooler. Really, you need to hear Astaron's LP to understand what it's all about because it's a singular record. Here and there I'm reminded of other things—like Siouxsie & the Banshees' darkest yet quietest moments—but it never sounds like anything else. It's minimal with a lot of open space but with percussion—often non-standard or unexpected percussion—at the center and synths and multitracked vocals creating a psychedelic swirl around it. It's far from a standard formula, though. "St. John's Fire" sounds like a 19th-century waltz and features something that sounds like an accordion, while the organ and marching band snare in "The Burning" remind me of "Demystification" by Zounds. "The Slurring" is one of the creepiest things I've heard in a long time, and "The Voice" sounds like an approximation of throat singing drenched in plate reverb. It's a wild ride, but as with the Banshees or Rakta, somehow it hangs together and sounds like music rather than just aimless noise-making. If you crave music that both surprises and charms, I can't recommend Astaron highly enough.