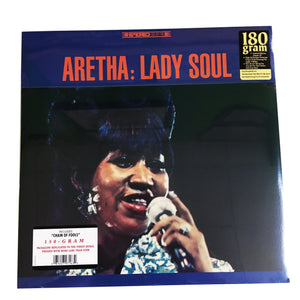 Rhino's rockin' Start Your Ear Off Right campaign returns with vinyl titles from some of the most celebrated acts in music including: Alice Cooper, Aretha Franklin, Dio, Golden Smog, John Prine, New York Rock And Soul Revue, Richard And Linda Thompson, The Notorious B.I.G., Vangelis, and ZZ Top.
Aretha Franklin's position as soul music's premier female vocalist was consolidated by 1968's Lady Soul. Her strident reading of "Chain of Fools" set the tone on which the singer unveiled several stellar original compositions and reinterpreted a batch of classic songs. Franklin's gospel roots were clearly on display on "People Get Ready" while her interpretation of "(You Make Me Fell Like A) Natural Woman" showed both her vulnerable and assertive qualities. It also features the fine soul ballad "Good to Me as I Am to You" with Eric Clapton on guitar.
Lady Soul is a tour de force and one of the absolute pinnacles of the Queen of Soul's incredible artistic legacy.