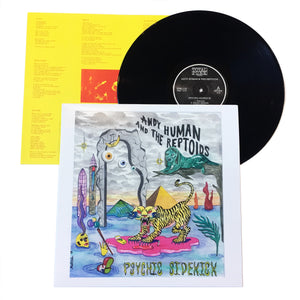 There's Aliens In Our Midst! Transmitting from the same warbley orbit as fellow Californians Twinkeyz, as well as outliers Roxy Music, and Gary Numan's Tubeway Army, Andy Human and The Reptoids are back with their first full length in almost four years. In the time between they've teased us with a bunch of killer singles. A succession of short blast preparing the world for their eventual invasion. Here we are in the 2019 and the mothership is descending. 'Psychic Sidekick' is a 10 track transmission of intent. Space is the place and The Reptoids are here to carry us away. 100% TOTAL PUNK!

"Post-punk trio from Oakland who bring many things to my mind: Devo, Dancing Cigarettes, Red Krayola, Wire, Uranium Club, Bonzo Dog Band (I'm weird). But hey, that's just me--they sound like themselves. This is their second LP following a self-titled debut in 2015. Plus several 7-inch releases in between. "Fissures" opens it up with a joyous declaration of alienated purpose: "life in the cracks/that's where I'm at/life in the fissures/life in the fissures." Looking for meaning in the nooks 'n crannies of modern life. The title track works up a bit of psych swirl among the angles. And "Echo Pedal" references guitar efx as a metaphor for the daily struggle. Dig the electronics. The banging piano and glam-chuggin' rhythms on "Cul de Sac" are like low-rent Roxy Music--or would that be Oklahoma proto-punkers Debris'?! "A Void" could be their new-wave dance hit--or something like that. "Thrust of History" and "You Like Your Job" have a Gang of Four vibe, although not as heavy. And there's more. First-rate stuff--nice to hear a modern post-punk thing that doesn't also veer into hardcore territory. They have a pretty unique thing goin'. But they sound like they're from the north of England, not Oakland--hah!"- Vulcher 


Our take: 2nd LP from California's Andy Human & the Reptoids and a rare long-player for the Total Punk label. While Andy Human's singles are gut-punches of catchiness, Psychic Sidekick spreads out and emphasizes the band's looser side. Most songs are built around steady drumbeats and bass pulses, overlaid with squelches of synth and (often heavily effected) lead guitar. The vocals and lyrics can feel like an afterthought, but that's OK because those long, meandering synth and guitar lines are the star of the show. If your record collection has a ton of '77-era punk records and 70s Krautrock, you're right in the sweet spot for being bowled over by Psychic Sidekick. Interestingly, the songs on the a-side feel a little snappier and more upbeat, while the tracks on the b-side churn more slowly. That is except for "You Like Your Job," whose propulsive, Delta 5-ish bass line makes it the record's standout track. While Psychic Sidekick isn't as crude or confrontational as the typical Total Punk release, if you like the more psychedelic end of the garage spectrum (Destruction Unit, Ex-Cult, that recent Timmy Vulgar LP on Mind Meld) this is well worth a listen.