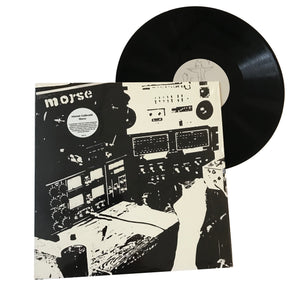 A central figure of the New Zealand underground since his days in The Rip over three decades ago, Alastair Galbraith has worked alongside scores of Kiwi legends as a multi-instrumentalist and solo artist. Morse appeared in 1992, a Siltbreeze/Xpressway co-release, and despite Galbraith's centrality to the magical NZ mix, the record is an 'outsider' classic, a peerless piece of Antipodean collage, diverted folk, and minimal psychedelia.
Galbraith plays almost everything on Morse, with periodic assists from Bruce Russell, Robbie Muir and others. Mutable, unfussy arrangements--for acoustic and electric guitar, piano, violin, and some proper post-VU thudding--gather and crumble around obliquely phrased double-tracked vocals, sharing an enigmatic yet intuitive emotional quality with much NZ music of the period. And while his process might be homespun, don't call this lo-fi: listen close and hear microscopic layers of detail in Galbraith's plangent guitar work, the texture of amplified strings distinct from the notes they're sounding, melodies and sibilant murmurs swallowed as songs melt or careen into one another.
Morse's fragmentary song suites conjure a post-70s in which Syd Barrett fucked off to Dunedin and started roadying for The Clean, or John Cale traded blow for tea and a Tascam. Untouchable in spirit and execution, Morse is a long-undersung gem of the international 90s underground by a bona fide NZ legend.