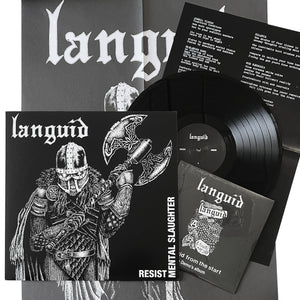 Deluxe reissue of Languid's debut LP.

Vinyl package includes -

- Original art and insert
- a 7" reissue of the original 4 track demo. Remastered by Kenko at Communichaos Media.
- 18"x24" poster


Our take: Desolate Records brings us a deluxe reissue of Resist Mental Slaughter, the self-released 2017 debut from d-beaters Languid, who hail from Edmonton in Canada's vast middle. Truth be told, I hadn't heard this record before Desolate announced their reissue. We carried both of Languid's subsequent 12"s, A Paranoid Wretch in Society's Games and Submission Is the Only Freedom, but we never stocked the debut, which only came out in a limited self-released pressing. When I asked Usman about this reissue, he informed me that Resist Mental Slaughter had developed something of a reputation among the d-beat cognoscenti, and that he thought it was by far the band's best record. Maybe he'll tell you more in his staff pick? As for me, I could hear immediately why a d-beat institution like Desolate Records would want to get this back into print. Languid isn't the heaviest, fastest, or noisiest d-beat band out there, but what makes them stand out from the pack is the sheer quality of their riffs. The overall sound is in the Dischange / Meanwhile vein of hard-charging d-beat without a lot of distinct peaks and valleys, but when they hit you with a riff like the ripping opener "Morbid Vision" or the stomping album-closer "Brain Dead Fools," their power is undeniable. Alongside the original album, Desolate's reissue includes a bonus 7" with Languid's 2015 demo, which has a rawer sound but is of similarly high quality, and includes an even more ripping version of the standout track "Useless Life." This whole package is a huge treat for all the käng warriors out there.