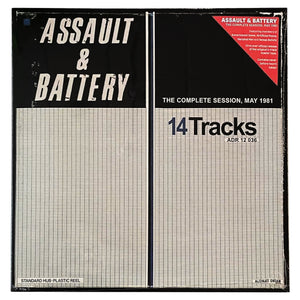 DC hardcore punk legends Assault & Battery featured members of the original lineup of Government Issue, Artificial Peace, Marginal Man and Savage Beliefs.
Rob Moss - bass
Brian Gay - guitar
Mike Manos - drums
Steve Polcari - vocals
This first ever official release of their only studio recording – expertly transferred from the original 4-track master – documents a vital group in the first flourishing of the DC scene. It contains the band's previously bootlegged songs, plus never before heard takes!
Limited Edition 160 gram metallic gold vinyl (500 pressed) in a 20pt board jacket with printed inner sleeve with liner notes by the band.
CD is housed in a board jacket style case with liner notes insert.
Our take
: The early 80s Washington, DC hardcore scene is extraordinarily well documented compared to other scenes, but Assault & Battery might be the band that got away.
They were only around for a few months in 1981, but they played
shows with Dischord bands like SOA, Minor Threat, Youth Brigade
and Government Issue. What's more, their guitarist, Brian Gay,
was also the bass player in the original lineup of the GIs. And
in 1983, Assault & Battery bass player, Rob Moss, would go on to
play in the GIs as well. 
They were probably a bit too early to appear on
Flex Your Head
because, by the end of 1981, their guitarist had moved to Chicago for college (he started the band Savage Beliefs there) and Assault & Battery joined up with the guitarist from the recently disbanded Red C and changed their name to Artificial Peace. Fortunately, Assault & Battery left behind this eight-song session recorded at Hit & Run studios, which has had a long life in the tape trading underground and appeared (miscredited to Artificial Peace) on a (bootleg?) 7" and CD on Lost & Found Records. This reissue, however, is the first time the source has come from the original studio master, and it is 100% essential for anyone into early 80s Washington, DC hardcore… which is to say, anyone into hardcore. Of the DC bands you probably know, Assault & Battery reminds me the most of SOA and Youth Brigade. While Teen Idles were punkier and Minor Threat a little more sophisticated as songwriters and players, Assault & Battery is pure ferocity with little concession to outdated concepts like melody. Still, though, the music is fucking great, building exciting, dynamic songs out of parts that are relentlessly intense, fast, and tough. The recording is also great, with a similar power and richness of texture to what was coming out of Inner Ear studios at the time. I know everyone and their mother is reissuing their long lost early 80s hardcore band, but this is the cream of the crop. If you love early 80s USHC, you need this.