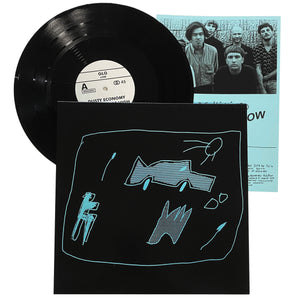 Go Lamborghini Go is a 6 piece band from Berlin and Leipzig.
What started spontaneously as a stand-in for a missing band, grew into a improv-band with more or less fixed line-up.
Logically, this record is also all-improvised, only vocals were added afterwards.

Our take: I'm not sure how many people have caught onto them in the US, but for my money, Germany's Mangel Records is poised to become the hot new label. Their latest release is this debut 12" from Germany's Go Lamborghini Go, and like the Ostseetraum 12" Mangel Put out a couple of months ago (which I'm still listening to regularly), I can't get enough of Go Lamborghini Go. Part of this record's charm is that I can't figure it out. The label's description notes that Go Lamborghini Go formed as a last-minute substitute for another band and that all of their music is improvised (except the vocals, which are overdubbed later). These circumstances and choices seem to color the music on Low. First, it's difficult to pin down stylistically. While there is a Gang of Four-ish quality to the songs that have a bass groove at the center, "Truce" sounds like shoegaze to me, and the a-side closer "Cheap" is a short skronk-fest that reminds me of Can's least accessible moments. Not only is listening to this record exciting because you never know what's going to happen next, it also makes me realize how controlled and mannered a lot of the music I listen to is. And of course, beyond just being eclectic, the music here is full of powerful moments. Like the Ostseetraum record I mentioned above, I find myself playing this record over and over. It's like a puzzle I can't figure out but keep chipping away at.