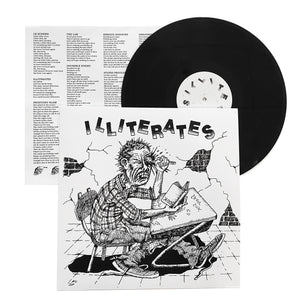 Debut LP from this killer US hardcore band out of Pittsburgh. Second pressing! Limited to 300 copies.
Our take
: I can't think of the last time we named a restock the Record of the Week, but this LP from Illiterates is a special case. Kill Enemy Records hit me up when the record came out and asked if Sorry State wanted to carry it. I listened to it online, thought it ruled, and asked for 100 copies. It turns out they only pressed 100 copies total, so of course we got way less than that. The record hit our site and sold out instantly, and aside from
Jeff writing about it for his staff pick
we didn't give it much attention since I hate teasing people with records they can't buy. Fortunately, Kill Enemy did a repress (300 copies this time, so don't expect this to appear in the
Billboard
charts), and now this beast is in stock and I'm ready to shout from the hilltops that this is one of my favorite punk records of the year. Illiterates' fast and gritty hardcore grabbed me right away, but I've continued to put it on over the past few months, and I've grown to love it even more. It's easy to get excited about a fast hardcore record when it's blasting out of your speakers, but Illiterates has a subtle sense of song craft that sticks with you long after you pick up the needle. This reference might be lost on anyone under 30, but they remind me of Minneapolis's Formaldehyde Junkies, whose songs were short, blistering fast, and extremely potent, but had a subtle pop sensibility at their core. And speaking of Minneapolis, I can't resist mentioning the Replacements cover that closes this record, in which Illiterates take the finger-snapping, piano-led breakdown of "We're Coming Out" and refashion it into the perfect pit-clearing breakdown to close out this record. The killer music is wrapped up in a killer recording and killer cover art. I can't think of a single change that would make me like this record more.