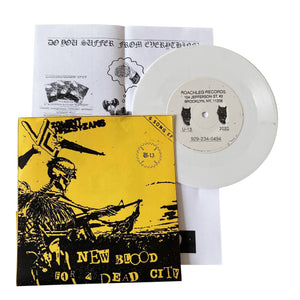 Raging new EP from this hardcore band out of Austin, TX.

NOTE: Please limit 1 or 2 copies per customer. We will automatically refund you if you purchase several copies.

Our take: This debut 7" from Texas's Violent Christians has been toast of the hardcore town for a few months now, and with good reason; it fucking rips. Like several recent bands from Texas, Violent Christians wear their Koro influence on their sleeves (the track "Eat Your Shit" is as blatant a Koro homage as you're ever likely to hear), but they occasionally hit the throttle even harder and end up in a Deep Wound-influenced space, which is fine by me. The riffs and songs here are great, and the only thing I could imagine a hardcore fan taking issue with is the recording. Whenever I listen to New Blood for a Dead City, I think about the fact that I often open the voice memos app on my iPhone and make practice recordings for my band and it sounds way better than this. You have to go well out of your way to make a recording that sounds this "bad" in 2021. A couple of things about that, though. First, the recording is "bad" in a very particular way, sounding like a very blown out tape recording, which is a lot better than a "bad" digital recording, which I can't fucking stand. Second, despite any shade you can throw at the recording, this record's power is undeniable. It just fucking goes. Would it rage differently or even better if it had a clearer recording? I'm not sure. But this is the record we have, and if you like ripping 80s USHC, it's a record you should get.