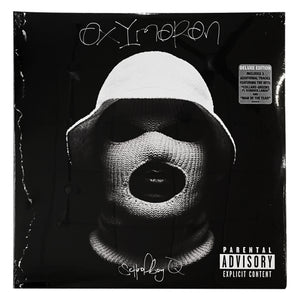 For the first time in a long time, hip hop can genuinely say that a new generation of MC's has arrived. Sure, there are those who helped birth the culture and music and people who can say they grew up with it. But now, you are witnessing perhaps the first generation that can say they were raised on hip hop almost exclusively. If you don't agree, you're probably not listening to enough Schoolboy Q.

Although the artist born Quincy Matthew Hanley has only been rapping since 2007, his bluntly charismatic presence on wax should've already put him on your radar as one of rap's emerging voices. Born in Germany to a pair of military parents, Q spent the first three years of his life in Texas before his family eventually settled in Los Angeles. Like so many before him, Schoolboy's L.A. experience provided a lifeshaping balance of sports, school, drugs and gangs.

Growing up on the corner of 51st and Figueroa, Schoolboy Q lived just 8 minutes away from the Staples Center where Kobe Bryant and the Lakers hoisted trophies every other year. For a while, Q looked to be on his way to a similar path as he played football, baseball, basketball and even joined the swimming team in high school. Unable to resist the lure of his surroundings, he soon found himself drowning in an abyss of slanging crack, shootouts and jail time.

SBQ got a chance to overcome his circumstances and bad decisions with his music in 2007 when he debuted his first mixtape, ScHoolboy Turned Hustla. The project generated enough attention for growing imprint Top Dawg Entertainment to recruit him to the label that was already home to his future Black Hippy cohorts Jay Rock, Kendrick Lamar and AbSoul.

Schoolboy Q then issued the critically acclaimed independent digital albums Setbacks (2011) and Habits & Contradictions (2012) which led to a joint venture deal with Interscope and Aftermath Records for the release of his major label debut, Oxymoron. Preceded by the three singles "Collard Greens," "Man of the Year" and "Break the Bank, Oxymoron features production from the likes of The Alchemist, Pharrell, Sounwave, Nez & Rio and Digi+Phonics along with famous guest spots by Kendrick Lamar, Raekwon, 2 Chainz, ASAP Rocky, Jay Rock, Tyler The Creator and Kurupt.