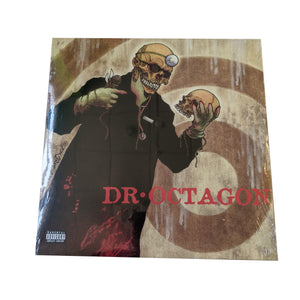 An original member of New York's new-school pioneers the Ultramagnetic MCs, Keith Thornton is best known as a solo rapper. His signature style is stream-of-consciousness lyrical flow and complex vocals, two skills that earn him a perennial nod from the underground hip-hop community. The average Kool Keith album is peppered with bizarre, disjointed, even delusional or disassociated themes, concepts, and references. Nearly all of his albums incorporate a satirical dislike for more commercialized strains of hip-hop, as well as major record label scams.
After single-handedly redefining "warped" as the mind and mouth behind the Bronx-based Ultramagnetic MC's, "Kool" Keith Thornton - aka Rhythm X, aka Dr. Octagon, aka Dr. Dooom, aka Mr. Gerbik - headed for the outer reaches of the stratosphere with a variety of solo projects. A onetime psychiatric patient at Bellevue, Keith's lyrical thematics remained as free-flowing here as they ever were with the N.Y. trio, connecting up complex meters with fierce, layers-deep metaphors and veiled criticisms of those who "water down the sound that comes from the ghetto." His own debut single, "Earth People" by Dr. Octagon, was quietly released in late 1995 on the San Francisco-based Bulk Recordings, and the track spread like wildfire through the hip-hop underground, as did the subsequent Dr. Octagonecologyst full-length released the following year.
Featuring internationally renowned DJ Q-Bert (of Invisibl Skratch Piklz) on turntables, as well as Dan the Automator and DJ Shadow behind the boards, Dr. Octagon's left-field fusion of sound collage, fierce turntable work, and bizarre, impressionistic rapping found audiences in the most unlikely of places, from hardcore hip-hop heads to jaded rock critics. Although a somewhat sophomoric preoccupation with body parts and scatology tended to dominate the album, Keith's complex weave of associations and shifting references is quite often amazing in its intricacy.