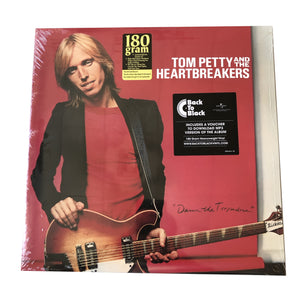 Damn The Torpedoes, Tom Petty and The Heartbreakers' third album (and first on Backstreet/MCA,) proved to be the breakthrough for the singer-songwriter-guitarist and his band (guitarist Mike Campbell, keyboardist Benmont Tench, bassist Ron Blair and drummer Stan Lynch). The album was released in October 1979, after a highly publicized lawsuit in which Petty made a groundbreaking stand for artist rights, refusing to be sold by one record company to another without his consent.
Damn The Torpedoes became the group's first Top 10, remaining at No. 2 for seven weeks (only Pink Floyd's The Wall kept it from the top). It sold over 5-million copies, and had 3 top 40 hits and 4 top 5 rock-radio hits. The album was an immediate critical success, with Rolling Stone declaring Damn The Torpedoes "the Tom Petty and the Heartbreakers album we have all been waiting for."
Produced by Petty and Jimmy Iovine, the album reached double platinum quickly and catapulted the band to arena performances where they played such classic cuts as the infectious Top 10 hit "Don't Do Me Like That," blistering rockers "Refugee" and "Here Comes My Girl," and the exhilarating "Even The Losers." Bursting with full speed ahead American rock 'n' roll, the album brought together rock, folk, country and blues in what has become Petty and the Heartbreakers' signature style.
The release garnered Petty his first Rolling Stone Magazine cover in February 1980. In 2003, nearly 25 years after its release, Rolling Stone honored Damn The Torpedoes on its list of "the greatest albums ever made," and in 2002 Tom Petty and the Heartbreakers were inducted into the Rock and Roll Hall of Fame, during their first year of eligibility. Tom Petty and the Heartbreakers are one of the very few artists to score a top five record on the Billboard charts in five consecutive decades.