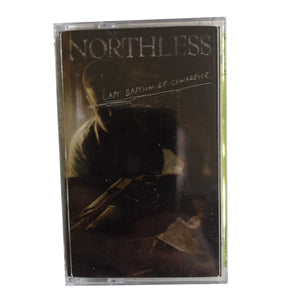 Since the band's inception in 2007, Milwaukee's Northless has been at the forefront of all things sludgy, noisy, and misanthropic. Now in their tenth year, the band brings us their newest full-length, Last Bastion of Cowardice, in partnership with Gilead Media & Halo of Flies (vinyl), Hand of Death (tape), and Init Records (CD).
Throughout the last decade, Northless has honed in on many of the darkest parts of the human condition as inspiration for their brooding, heavy dirges. Previous full-length albums Clandestine Abuse (2011) and World Keeps Sinking (2013) both touched on topics both intensely personal and universally identifiable, while this new record achieves a similar darkness by way of a conceptual narrative. Last Bastion of Cowardice tells a dark tale of revenge, sorrow, and redemption denied, as the protagonist learns the true wage of sin. To work in concert with these themes the band pushed sonically in many different directions to extremes previously unrealized by Northless. Dynamic, emotional, and expressive approaches are more varied than before through heavy nods to death metal, noise rock, and post rock.
Northless has always been known as a band that possesses incredible tone in their sound, an effort which is supported with the assistance of long-time collaborator and engineer Shane Hochstetler at Howl Street Studios, who recorded and mixed the album before sending it off to be mastered by Carl Saff. The theme of the album is tied in visually with artwork created by Paul Jeffrey.