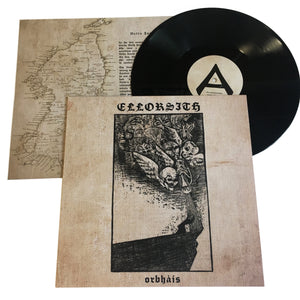 The enigmatic presence known as Ellorsith returns with their new EP Orbhàis. Continuing their pattern of a new release every two years (following their 2014 debut 1959 and the 2016 split with Mannveira), Ellorsith delivers a new twenty-minute themed opus. Reverse board printed jacket with insert and poly-lined sleeves. Includes digital download card.
"In the late summer of 1929, Marie Nora Emily Edith Fornario left London for Iona. She was a student of ritual magic, occultism and telepathy. Once on the island, Netta found lodgings with a local landlady. By day, she explored the island. By night, she entered into traces and attempted to contact the island's spirits. The first indication that something was wrong was a cryptic message she sent to her London housekeeper stating that she would be out of communication for a while as she had 'a terrible case of healing on'. Netta's apparent distress escalated and she informed the landlady that she needed to return to London immediately, as several individuals were attacking her telepathically. After several hours, she came back out and calmly announced that she had changed her mind and would be staying on the island. 
"At some point the next day, Netta went missing. It took two days to find the body. Reportedly, a cross had been cut into the turf with a dagger and she was lying on top of it only wearing a black cloak. Her skin was marred by scratches and the soles of her feet were cut. Stories of strange blue lights were reported to have been seen near her body. She was buried by the islanders; the death certificate was recorded as 'exposure to the elements'."