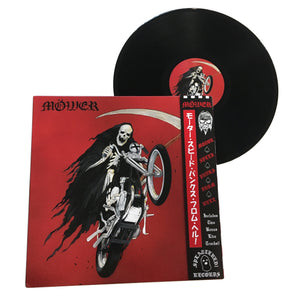 From the Pittsburgh, PA wasteland comes 3 serious speed freaks spewing rock n' roll with real d-beat disgust. Take a break from usual trendy hardcore bands and other punk rock cosplay aestheticians and shine a light on a legacy. Motorcycles, speed, leather, fire and fury. If you align yourself with MOTORHEAD, MIDNIGHT, INEPSY, G.A.T.E.S, CHAPEL, and other mainstays of the flame; look no further. Drowned in American beer and hung over on a Harley doing 100mph into oblivion. MÖWER is built for speed and here's the chance to support!
**Japanese edition includes two bonus live tracks recorded for a radio show. One of those tracks never before released. Limited to 500 copies on 'midnight-colored' vinyl with pro-printed jacket and Obi-strip.


Our take: Mower is a d-beat rock-and-roll band from Pittsburgh, and this is a reissue of their self-released debut 12" from last year. You don't see many reissues of year-old records, but this one makes sense; the original version didn't get around much, the reissue adds much improved packaging and two extra tracks, and the new label is a perfect fit for the band. Speaking of which, Splattered! Records has been making a name for themselves reissuing classic NWOBHM singles, and while that's not exactly Mower's style, the band's amped up, Discharge-inflected Motorhead-isms will appeal to the folks who picked up those reissues. To me, Mower sound like a mix of Annihilation Time's rock riffing, Inepsy's hard-charging rhythms, and Midnight's grittiness; if you drew a Venn diagram of those bands' styles, Mower would live in the little spot where they all overlap. If you're a fan of that style, this is a top-notch take on it you'll no doubt enjoy.