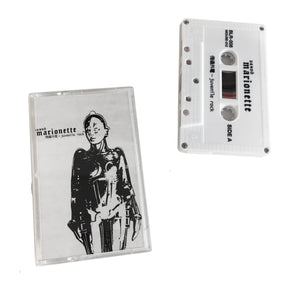 Initially released on a very limited CD-R in conjunction with their first string of reunion shows in 2018, Juvenile Rock is a new tape collection of unreleased recordings from legendary Japanese synth/new wave band Dendö Marionette, following the release of the 傀儡電伝 LP (BLR-001/MOUSE-010, 2018). 
Included on the first half of this cassette are demo recordings from 1980 and 1981 that preceded what would become their lone 7" flexi release. These range from alternate versions of classic songs to breathtaking instrumentals to rich studio experiments that open up a window into the creative process of the band. Rounding out the tape on its second half are captivating live performances that showcase the power of Dendö Marionette at their peak. Simply put, Juvenile Rock further cements the immutable legacy of one of the absolute best artists to emerge from the 1980's Japanese underground. 
This collection is a split release with Mouse Records from Osaka, Japan and is limited to 200 copies, more than half of which will be available in Japan through both the band and Punk And Destroy in Osaka.
credits