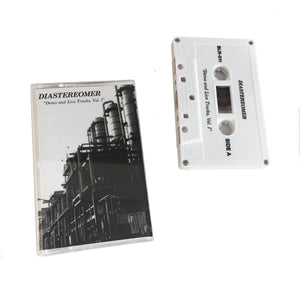 Diastereomer was a new wave two-piece formed in Tokyo by high school friends Katsuya Shoman and Yoshio Tanaka in 1986. After releasing a private press 7" single in 1989 in a run of only 200 copies, the band returned to the studio in 1990 to record two follow-up 7" singles. 
Sadly, the band never accrued much popularity and, despite performing live with relative frequency, Diastereomer would continue to languish in obscurity. This, coupled with a lack of momentum due to poor sales of the Mothersun 7", would prevent the band from completing the recording session of the planned singles, which were aborted after finishing only three of the four songs. They would cease playing as Diastereomer shortly after in 1991. 
Demo And Live Tracks, Vol. 1 compiles these unreleased studio tracks with three live sessions from shows around Tokyo in 1989-1991. With these unfairly-shelved studio recordings, we can see the band's love for Depeche Mode shine through even more so than the Mothersun 7". The live performances showcase the band's ever-evolving live show, with the band subtly altering and improving arrangements on the classic 7" tracks "Mothersun" and "Place," as well as performing material that is now exclusive to this release. This cassette is limited to 100 copies. 
A1-A3 were recorded in a private studio in 1990. 
A4-A6 were recorded live at LosAngeles Club, Tokyo in January 1991.
B1-B5 were recorded live at Kawai Sound City, Tokyo in March 1989. 
B6-B9 were recorded live at Silver Elephant, Tokyo in January 1990.