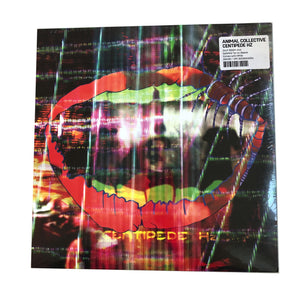 Centipede Hz is the tenth full length Animal Collective album following the widely celebrated Merriweather Post Pavilion (2009) and also the first since Strawberry Jam (2007) to feature all four original band members: Avey Tare, Panda Bear, Geologist and Deakin. As the album's opening bars of drum crashes and radio interference on "Moonjock" immediately make clear, having returned as a four piece, Animal Collective have made their most widescreen and fully realized music to date.
Once touring for Merriweather Post Pavilion was concluded at the end of 2009, Animal Collective released their visual album Oddsac on DVD. The film was also screened internationally at theaters and film festivals. The band created Transverse Temporal Gyrus, an installation for the Guggenheim Museum in New York City and subsequently released a 12" single of the performance and launched a website to distribute music from the event. The period between Merriweather Post Pavilion and Centipede Hz also saw the release of two solo albums: Avey Tare's Down There (2010) and Panda Bear's Tomboy (2011).
Regrouping as a four piece with original member Deakin once more in the band, Animal Collective reconvened in their native Baltimore in January-March of 2011 to write material for Centipede Hz with a further session later in the year. Rather than swapping ideas over the internet and file-sharing Animal Collective were, for the first time in many years, exchanging ideas in the same room by playing live instruments.
As a result Panda Bear returned to playing a sit-down drum kit for the first time since Here Comes The Indian (2003) and Geologist began playing live keyboards again. Along with using some of the samplers and sequencers with which they had previously been writing, the sound of Centipede Hz draws on the dynamics and energy of Animal Collective playing together as a band. The return of Deakin is at its most marked in "Wide Eyed," a song that he wrote, featuring his first ever lead-vocal performance and whose title captures the mood of Centipede Hz perfectly.
Part of the inspiration for Centipede Hz included the band's memories of growing up listening to station announcements and commercials on the radio and imagining the after life of radio signals from the past, forgotten transmissions that are now lost in space and broadcasting music from other planets for other life forms. This is reflected in the sound of Centipede Hz, which features the white noise of radio interference and buried frequencies overlaid with the band's peerless melodic sensibilities and compositional methods. The result is a panoramic set of songs that shimmer with the confidence and wonder of Animal Collective's unique inner logic and the luminous warmth of their sound world.
Animal Collective: Avey Tare (vocals, synthesizers, piano, guitar, sampler, sequencer, percussion); Panda Bear (vocals, drums, sampler, percussion); Deakin (vocals, baritone guitar, sampler, percussion); Geologist (sampler, synthesizers, piano, percussion) with: Dave Scher (Beachwood Sparks, All Night Radio) lap steel guitar on "Today's Supernatural," "New Town Burnout," "Pulleys," and "Gotham," and melodica on "Rosie Oh" and Riverside Middle School Choir, which sings on "Father Time" and "New Town Burnout."
Centipede Hz was co-produced by Animal Collective and Ben H. Allen III and recorded at Sonic Ranch studios in Tornillo TX (outside of El Paso) by Ben H. Allen III and mixed at Maze Studios in Atlanta, GA by Ben H. Allen III.