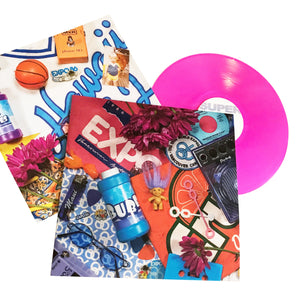 ETT brought you TOTAL LOVE and now we bring you SUPERCRUSH. What a time to be alive. We're thinking the West Coast jangle-pop trio have done an outstanding good job of upping their (and our) serotonin levels, with four amazing 7"s so we decided that the world needs all of them on one proper Collection LP. 
Although best known for playing in a long lineage of hardcore, punk, and metal bands, Mark Palm's focus has always been song- craft and pop sensibility. After finally embracing all that is sweet and sublime as the primary songwriter of San Francisco's shoegaze darlings MODERN CHARMS, Palm continues to explore the saccharine side of things with this latest project, SUPERCRUSH. 
Supercrush is currently in the studio completing work on their debut full length album. However, in the meantime the band is releasing a collection of all their previous material. 
For the past handful of years Supercrush has been employing a drip-feed approach to releasing new music. Every so often a new two song 7" single of power-pop excellence would appear out of nowhere. And then all would go quiet until the next pair of gems inexplicably materialized out of the silence. Here we have all four supersingles, along with two previously unreleased bonus tracks, collected as one ten song release. From the fuzzed-out guitars of 'Lifted' to the tasteful organ and glockenspiel accents of 'Walking Backwards' it's all here in one attractive package with cover art featuring an eye-catching assemblage in the colorful style we've come to expect from Supercrush. 
The two bonus tracks were recorded in the winter of 2015/2016 as part of the same group of sessions that yielded the 'I've Been Around' and 'I Can't Lie' singles. However, this pair of songs finds the band taking a temporary detour from the short and sugary simplicity of their superpop formula to explore a more spacey approach, recalling the shoegazing dreamy-ness of the outro of 'Melt Into You' from their first single, or perhaps even some of Mark Palm's work with his previous group, Modern Charms. 
The closing track, 'Rewind', especially demonstrates this different approach as it forgoes percussion altogether and utilizes mantra-like lyrical repetition and the juxtaposition of layers of chaotic noise, static, and feedback over a cyclical chord progression to bring this collection to it's cathartic conclusion. Although, upon reaching that conclusion it's likely that the listener will find themselves echoing the lyrical sentiment of the final song: "I just want to start again from the beginning." Luckily, in this case starting again is as simple as flipping the record and dropping the needle. 
While not a carbon copy of any one band or scene, the sounds of Supercrush will likely appeal to those with a taste for much of the "alternative" music of the early 1990's, from both North America and the UK. From Brits Swervedriver and Teenage Fanclub, to American counterparts like Sugar and Smashing Pumpkins, and even often overlooked Canadians like The Doughboys and Sloan, the common denominator is meticulously crafted pop gems, something that Supercrush also strives to achieve. Ten blissful, hook-filled, syrupy-fuzz-pop anthems; so classically '90s, yet so now. 
Summer is right around the corner and Supercrush is your soundtrack for the 2019 summer - don't miss it.