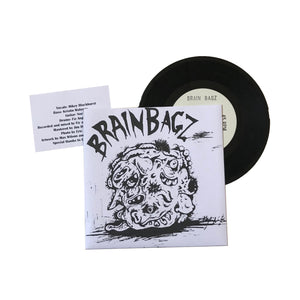 " 3 songs about alienation, deceit and betrayal. 
Stoked we got to record at least one record with 
the fabulous Nora Price , Also way spazzed to 
have a record mastered by the one and only Jim Diamond."  
"Salt Lake's BRAIN BAGZ have never failed to deliver a sound that 
absolutely devastates" / "'70s punk infused 
with urban-decay-meets-fuzzed-out-psychedelic"
it's something like Blowtops  in the TRIP with Cramps !!!
!!!!Punk /Garage/Fuzzed /Psych!!!!
(limited to 250) The 7" will be issued with 2 different covers
1 cover art 125 copies   Black and White
2 cover art 125 copies   Black and White