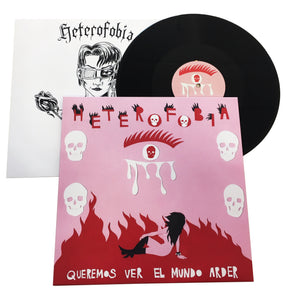 Debut LP from the Monterrey punks, featuring members of Cremalleras. 
Primitive and stubborn angry South American 80's hardcore played with a total death rock vibe by this amazing punk band from Monterey, Mexico. Imagine the hybrid of Ataque Frontal and Christian Death! 10 tracks plus La Uvi cover. 
"That album title translates as 'we want to see the world burn', for those among you who don't speak Spanish and just came here for an ear-destroyingly good time. Should tell you everything you need to know about the debut LP from this bunch of Mexican post-punk/hardcore crossover geniuses, although if you're still coming up short, then perhaps song titles like 'Life of Lies', 'Hell' and the matter-of-fact 'You Disgust Me' should help. 
Hailing from Monterrey, capital of Mexico's north-eastern state of Nuevo León, Heterofobia (yup, means what it sounds like) describe themselves as 'queer, pink and punk and not going anywhere' – gotta love that defiant stance. Appropriately, the music is a seething, guttural assault that'll make you wanna fuck up your brake pads before driving at 100mph across an icy lake, just to see what happens. Sounds dumb though, kids, maybe just listen to the record to getcha thrills. And believe me, you'll wanna. 
So what does it sound like? Not worlds away from the darkened Scandi-core of Sweden's Holograms or Denmark's Iceage (when they were good, and without all the questionable rune shit), but with a character that's resolutely its own. At times guitarist Kuni recalls the desolate swamp-rock of The Scientists; other times they're playing in a haze of 80s goth-pop textures while running through the place like Los Crudos set on fire. Things dumb down (or dumb up, you choose) for a squalling cover of Spanish punk legends La Uvi, but it all fits. This is gnarly, righteous, pointed punk rock at its finest." 
Will Fitzpatrick. 


Our take: Debut 12" from this band out of Monterrey, Mexico with a unique sound combining elements of hardcore punk and death rock. On most tracks it sounds like the drummer and vocalist are from a vicious hardcore band inspired by South American classics like Olho Seco and Ataque Frontal, while the bass player wandered in from their goth band practice and they're all playing along to guitar parts played back on a barely functioning four track. The guitarist for Heterofobia is the star of the show for me, squirming, crawling, and writhing their way through these tracks, creating a vibe as dark and as heavy as Part 1 or Rudimentary Peni. I'm sure I'd love it even if there were someone moaning through their best Rozz Williams impression, but the way Heterofobia combines that darkness with the drummer and vocalist's savagery is something special. The riffs and songs are memorable, but it's the sound that sells this one. Highly recommended.