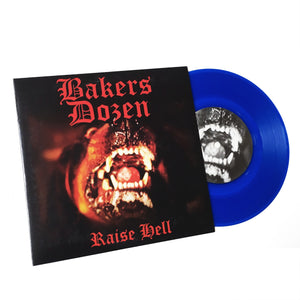 THREE BRAND NEW TRACKS RECORDED ESPECIALLY FOR MY SOON TO BE COLLECTABLE STEP-1 OI! COLLECTION... OF WHICH THIS IS THE FIRST VERY SPECIAL RELEASE!
ALL THREE SONGS ARE EXCLUSIVE TO THIS RELEASE WHICH FOLLOWS HOT ON THE HEELS OF THE VERY SUCCESSFUL "WOLVES WITHIN THE WALLS" ALBUM!
TO MAKE THIS RELEASE EVEN MORE SPECIAL THE FIRST 1000 COPIES ONLY ARE BEING DONE IN SETS OF 250 RED, 250 WHITE, 250 BLUE AND 250 BLACK.
A 7" EP SERIES OF WHICH THIS LITTLE BEAUTY IS THE FIRST RELEASE OF MANY TOP Oi! ACTS FROM THE UK AND EUROPE.
THREE SONGS OF BLISTERING OI! MAYHEM AS YOU HAVE COME TO EXPECT NOW FROM THE LEADING UK OI! HEROES.