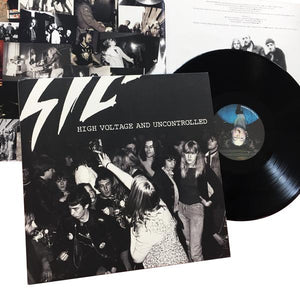 19 songs of telluric chaos recorded and mixed on a reel to reel SONY TC 630 in Francis Pourcel's attic in 1977 by Alain Neffe ( Pseudocode , Kosmose , Human Flesh , ... and founder of INSANE MUSIC label ).
SIC 's music sounds "proto-punk" going to " loud synth-punk" , made by experimental musicians Francis (guitar), Alain (bass-synth) , joined by Mario (drums) and the "High Voltage" voice of Micheline.
All the LP sounds like a wall of noise and sounds like an UFO in the Belgain music landscape , something you could put aside the "Blast-Hope" 7" or "S To S" lp for his sound assault and timeless style , mixing genres from 70's "Stoogian" hard rock wall of noise to early Cabaret Voltaire synth/post punk experiments .
After a number of explosive gigs , they split in the late 70's , Alain  continued on making all kinds of electronic experiments with a lot of projects and bands and kept running INSANE MUSIC label ,still alive today. Francis and Micheline will give a "new-wave" sound to SIC as a duo , and put out 3 excellent minimal wave singles early in the 80's .
33 rpm lp , double color insert , 500 copies made