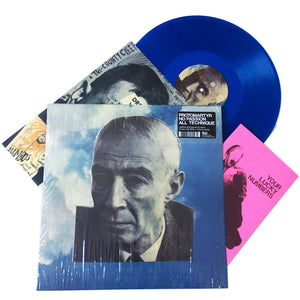 When Protomartyr – vocalist Joe Casey, guitarist Greg Ahee, bassist Scott Davidson, drummer Alex Leonard – stepped into a studio together for the first time, in November 2011, they didn't know they were about to record an album. With only four hours of studio time booked and one case of beer between them, their plan was to walk out with enough songs for a seven-inch single. Instead, at the suggestion of engineer Chris Koltay, the newly formed Detroit outfit recorded as much as they possibly could, in what little time they had. They left with 21 songs – enough material for two singles and a full-length album that, years later, is still vital listening. 

Sold out and out of print shortly after its original release on Urinal Cake Records in 2012, - No Passion All Technique is a sometimes messy look at one of rock's most magnetic bands – and lyricists – just as they were coming to life. Primal, cerebral, heartbreaking, funny – it's an accidental tour de force that's also become an unlikely collector's item. "My memory is shot," Casey says, "but I appreciate now, looking back, how raw and off-the-cuff it was. There's tons of mistakes in it and that wasn't because we planned on it. We still can't really admit that it's as good as it is. You never want to say that your first is the best, but I'm happy that the first ended up not being terrible. It gave us doorway to what we'd want to do later. "
Protomartyr's spectacular debut has previously seen only a highly limited vinyl pressing (which fetches up to $200 on Discogs), and a limited digital release on iTunes only. In spite of its elusiveness, it has acquired a passionate fanbase over the years - one who have been demanding a re-issue at every possible opportunity. Along with the original 13-song tracklist (including live staple "Jumbo's"), the No Passion All Technique vinyl re-issue will be accompanied by 4 additional digital bonus tracks: three songs from an early 7" which have never before enjoyed digital availability; and one entirely unreleased track, "Whatever Happened to the Saturn Boys?" Also included is a 20-page zine.