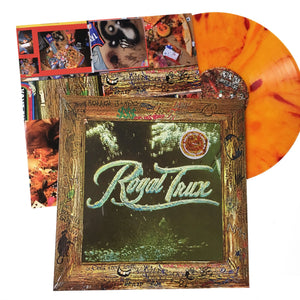 Royal Trux's first album of new songs since 2000's Pound for Pound not only maintains the magic chemistry between Jennifer Herrema (vocal, moog, guitar, melodica) and Neil Hagerty (vocal, guitar) but expands upon it greatly with their natural ability to give us something unexpected, necessary, and truly unique. Their own formidable and informed imaginations...the same two creative minds that brought us (to name a few) Twin Infinitives, Cats and Dogs and Accelerator, are present in the unadulterated, exhilarating energy that has the album listed on most highly anticipated albums of 2019 lists.

Their lengthy recording break has done nothing to diminish their visionary, visceral intensity and enduring influence. For the band it has been a natural, fluid return. Says Herrema, "Nothing has changed within the Truxian universe we created for ourselves as teenagers; because Trux is and will always be our way of life whether living it together or separate...This is no hobby rock kick. We are long game lifers with no fear, no regrets and plenty of gratitude for the way the universe has rewarded our singular dynamic."
Royal Trux find innovation in their Bitches Brew aesthetic which now defines the standard mash-up approach so commonly ascertained and claimed by the majority of musicians that whether cognizant or not have followed in Trux's very large footsteps: "everything in the pot whether you like it or not," deriving from world music, punk rock, jazz, metal, electronic, southern, teeny-bop and all the rest. In the tradition of the blues, through appropriation and re-evaluation, Royal Trux changed the way we think of music. Their return is nothing short of glorious.