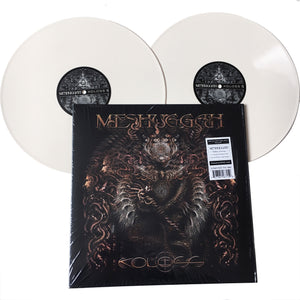 One of the most prolific bands on Nuclear Blast, the majority of Swedish extreme tech-metal pioneers Meshuggah'scatalog has been unavailable on vinyl for years. A series of new colored editions from the label boast newly remastered audio for spectacular sound and newly designed gatefold jackets. The second installment of reissues being released in March 2019 include: Nothing (2002), I EP (2004), obZen (2008) and Koloss (2012). The re-designed album artwork was completed by Keerych Luminokaya. For the remastering, Meshuggah enlisted Thomas Eberger of Stockholm Mastering who worked on The Violent Sleep of Reason which secured the band their first Grammy nomination.
While the term "genre-defining" gets tossed around quite frequently these days in the music industry, and most especially the heavy metal industry, it is truly the only proper term to align with the head expanding sounds created by Meshuggah. The band began its formation in Umeå, Sweden in 1987. With over 25 years and eight full length albums as masters in this realm, the band have been on an endless journey to outwardly reveal their uncommon sonic stamp. This greatly pertains to the musical precision required in order to create songs with such unique time signatures.
In early 2011 the iconic band got back to their very own studio vault to record one giant monster of an album. The outcome, fittingly entitled Koloss, stunningly showcases the bands complexity and diversity, adding a more groovy and rocky edge. Meshuggah's sound was revolutionized yet again here, slightly more catchy but still capable of destroying everything in its massive wake.