Record of the Week: Vile: Says Fuck Off 7"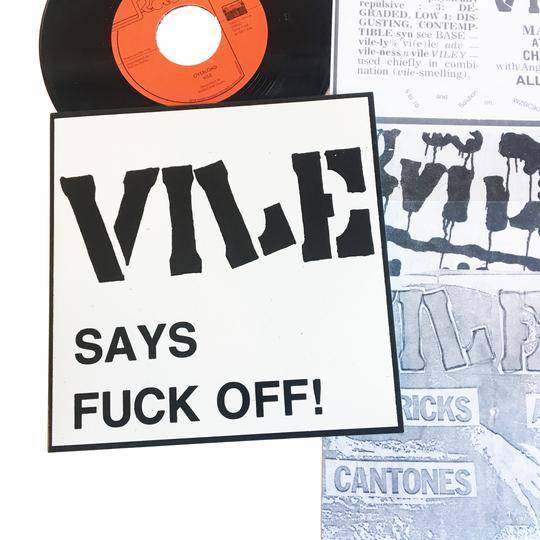 Vile: Says Fuck Off 7" (Radio Raheem) Well, this is exciting… a 7" of unreleased stuff by Boston's Vile, handled by the people you want handling a reissue like this, Radio Raheem. Better yet, these are unreleased recordings from the same session as their legendary Solution LP. The a-side, "Overload," is presumably an outtake from the LP as it's never been released before. Even though the band felt alienated from the Boston scene (and baited its members relentlessly), they still sound very much of a piece with it. "Overload" in particular sounds like SSD's bulldozer hardcore married with the FU's snotty vocals. As for the two tracks on the b-side, they're "Definitions" and "5 to 10," two of the band's best songs. (I think I remember Government Warning covering the latter and getting a huge reaction.) The back cover lists them as "alternate versions," so maybe they're different takes from the same session as the LP versions. While the EP is short and two of the songs are familiar, this is the only Vile vinyl you can get your hands on… even the 2004 reissue of Solution on Parts Unknown is hard to find these days. The EP also looks and sounds great and includes archival context as we expect from Radio Raheem.
Sorry, no streaming link for this one!