Record of the Week: Spike in Vain - Disease is Relative 12"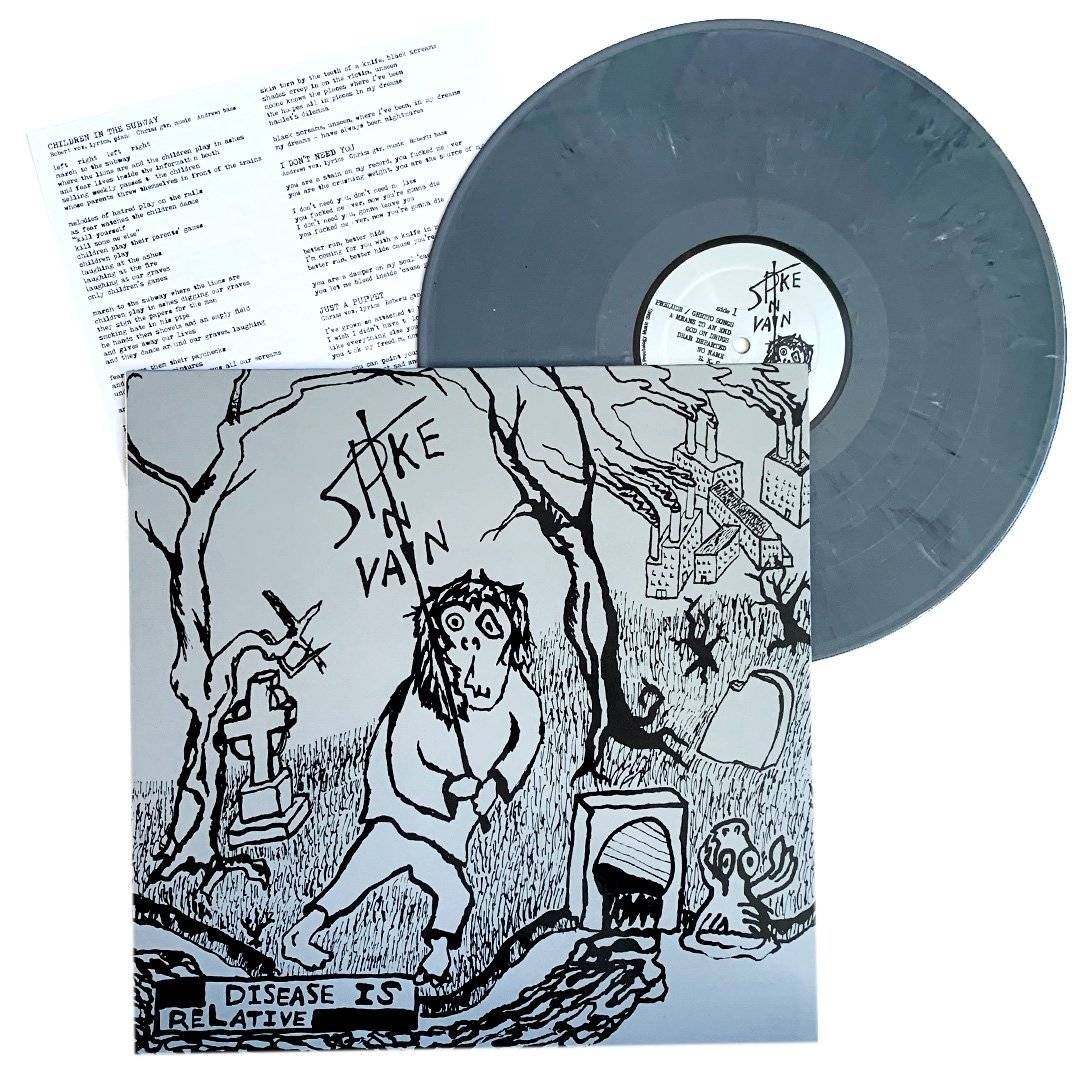 Spike in Vain: Disease Is Relative 12" (Scat Records) Disease Is Relative is the only official, stand-alone Spike in Vain vinyl release that came out during the group's original lifespan, appearing on the (band-operated?) Trans Dada label in 1984. Disease Is Relative is, for me, one of the great unheralded punk albums of the 80s. While its 1984 release date places it at the tail end of hardcore's explosion, it sounds like the product of a brief moment when arty bands like Saccharine Trust and the Flesh Eaters made records that we can classify, at least broadly, as hardcore. The people in these bands seemed like they wrote poetry outside of school assignments, and these artist types saw hardcore's loud, fast, and angry sound as an intriguing possibility or a color on their palette rather than a set of rules. Eventually the meatheads took over and these artists made their way into more open-minded scenes, but before that happened, many of them made records that sounded like hardcore records, but not just hardcore records, and Disease Is Relative is one of the best of those. On every level, it delivers more than I expect from a hardcore record, whether you're talking about the brilliant, evocative lyrics ("God on Drugs?" Fuck!) or the music itself, which borrows the rhythmic inventiveness of post-punk bands like Gang of Four ("E.K.G.") and the compositional complexity of 70s art rock. Somehow, it accomplishes all this without sacrificing the explosivity that is a strict requirement of hardcore. If you don't have this record already and you love albums like Saccharine Trust's Paganicons and the Minutemen's What Makes a Man Start Fires?, you need to buy this now. You'll thank me later, I promise.
Also, a note for the nerds: a blurb from the label mentions this reissue sports a superior mastering job from the original, and suggests that people who already own an original copy might want to pick up the reissue thanks to the improved sound. I A/B'd the reissue with my original pressing and the sound is less tinny, with the lower frequencies represented more clearly and powerfully than on the original. I loved this album so much already that I don't know if these improvements added much to my experience, but if you want to have the best-sounding versions of these tracks, Scat's reissue is it.