Jeff summed up the fact that things around the record store have changed lately and the blogs have kind of fallen to the side. Since the last blog the No Love's LP finally came out! It's a relief to finally have it done and I'm personally ready to record the next one. I have some other things in the works but they're probably a little premature to really talk about.
Anyways the theme for this round of blogs is touring. I'm reminded Rancid's album "Let's Leave", I'm always a fan of getting out of town and exploring new places. Tour just happens to be a good way to do that. I haven't done a lot of tours, but one happened to be a very lengthy one, including Europe, a week or so in England and a giant loop around the US. I wish I had a scanner to add some of my favorite flyers from it, maybe I'll figure out how to do that and add them later. Anyways here's a couple of stories from that time.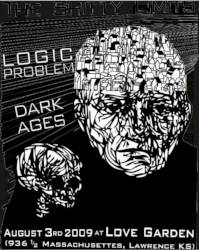 So fun life thing. Me and my wife tried to take a mini-vacation the other week down to the beach. It's not a super far drive but halfway there my A/C compressor literally exploded. So now I'm just rolling around in this terrible weather with no A/C. It's kind of a living hell. I do not do well with heat. Which reminds me of playing this show on tour. It's crazy to think this was 9 years ago. This was during the big Shitty Limits/ Logic Problem tour. I think this was my third or fourth time seeing Dark Ages who always ruled.
It was super hot and I remember we got into town fairly early. Our van had A/C but there were like eleven of us in there being gross and sweaty. We found out that there was a public pool near by and decided that was the best course of action. If I remember correctly we had a problem of not being able to go in wearing cut-off shorts and so we had to go find a thrift store for swim trunks.
We finally get in and have time to jump in once and then are immediately asked to get out because apparently a child had defecated in the pool. We sat and waited for them to clean it up and give us the ok to get back in. During this time another kid comes by and explains to us that this is like the 5th time that had happened that day. Public pools are gross and children are gross. It was so hot though that I overcame my distaste for both. Due to this I didn't get to actually check out Love Garden (I think I did some light browsing really quick). Very few things actually trump record shopping for me but swimming on a hot day after living in a van for a couple weeks probably will every time.
---
Couldn't find the flyer for this one but this show was with Stranger, Compassion Fatigue, Old Lines and Wet Brain at Sidebar in Baltimore March 15th 2015. The show was really fun and that was my first time at Sidebar. But yeah the best part of touring is record shopping and we got to go to one of my favorite record store Celebrated Summer. I sometimes feel bad for the rest of No Love because I know me and Daniel could spend a whole day in a record store and the rest of them got like 5-10 minutes. Anyways Celebrated Summer rules a lot and I picked up a record I had been hunting down for a while, The Cigarettes Will Damage Your Health LP. Not super rare but it has gotten harder to track down. (I just checked and the price has almost double to $75 since I bought this so maybe it is kind of rare). This album is everything by The Cigarettes and is awesome. I'll post the album below. It's always an amazing feeling finding a record on your wantlist while on tour.
---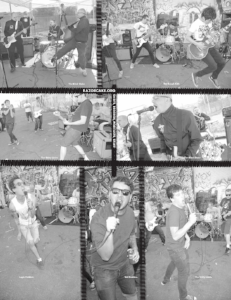 Can't remember the exact date of this show but it was 2009. Probably one of the coolest shows I've played. It was an abandoned lot in LA that we had to help clip the fence to get in. The show was Shitty Limits, Logic Problem, Rough kids and Wet Reckless playing in this giant abandoned parking lot with pallets of institutional sized bags of macaroni all around. There was also a cute little mangy trash kitten wandering around that was adorable (someone did end up taking it home with them). Each band played 3-4 songs and then switched till either the cops came or they ran out of songs. It was a blast and every band was great and no cops were seen. I think the same show (maybe minus Wet Reckless) happened again later that night at a club whose name I don't remember. It was a real cool show and luckily was captured in picture format by the great people at Razorcake.
---
WHAT SETH'S LISTENING TO