Live Fast Jeff Young: Vol. 9 - Best of 2017!
What's up Sorry Staters?

In review of the year 2017, I look back quite fondly to be honest. Many great things: I started some bands, toured with a band, NC had some of the best shows we've had in a while, made some new friends, got me a girlfriend, and so much more!

As yet another year comes to its close, we at Sorry State are scrambling to cram just 10 records which we deem as "the best" against all the stacks of records that came out this year. Needless to say, the will power one requires to narrow it down to such a small list is very taxing mentally, to say the least. 2017 saw the release of a lot of really great punk records. There's a part of me that desires to go out of my way to hilight more obscure records that would likely not be found on any year-end top 10 punk list. But being true to myself, there were some records that were binge-listen worthy this year that are surely no-brainer choices for many a punk listener out there. Hopefully my thoughts on these choices are fun to read.

Here we go (in no particular order):


1. Impalers: Cellar Dweller 12" - I'm sure this LP will creep its way onto many of the Sorry State staff's year-end lists, but I had to put it at the top of my list. From the day I heard this record earlier this year, I knew it would end up as a top contender for "Best of 2017". While Impalers were no slouches on their previous releases, consistently providing well-executed Motorhead/Scandinavian Jawbreaker-influenced madness, they somewhow reached a new plateau with Cellar Dweller. Monstrous psychedelic riffs/leads, intelligent songwriting, and nothing executed in bad taste. Dare I say, hardcore perfection?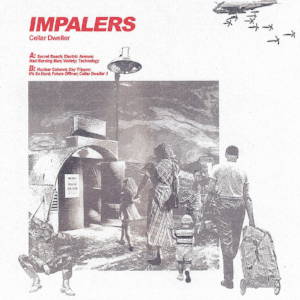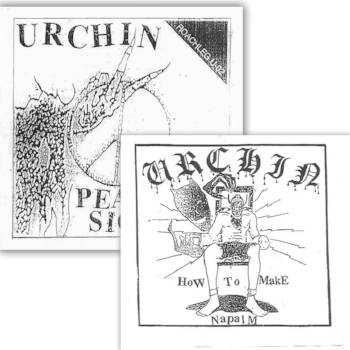 2. Urchin: How To Make Napalm / Peace Sign 7"s - Urchin is a band that for me kind of surfaced over the course of 2017, managing to release 2 killer EPs in quick succession. While Urchin self-describe their band by throwing out references to early Discharge and Anti-Cimex, there is an underbelly of American hardcore fury that makes this band stand apart from your typical crust punk interpretation of this sound. Absolutely savage.

3. Institute: Subordination 12" - I'll admit that this was an LP that I wouldn't have expected to make it into my Top 10, but I found myself revisiting this record constantly this year. Institute really changed their sound sonically from previous releases, exchanging the clean, angular sound on Catharsis for a recording that's much grittier. The band also seemed unafraid to incorporate more rock influences than the post-punk bread and butter we're accustomed to this time around. Beyond that, I feel that the songwriting is really strong. I remember seeing Institute at Nightlight in Chapel Hill this summer and their performance felt so convincing and captivating. Great band.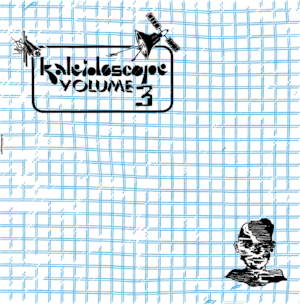 4. Kaleidoscope: Volume 3 12" - I first became aware of Kaleidoscope's singer and axeman when he was playing in JJ Doll, and whatever psychedelic undertones were just beneath the surface in his previous band were fully realized on Volume 3. While this LP could easily be doob-smoke inducing, there is also an element of Kaleidoscope's sound that is eerie and cavernous, conjuring some bleak and meandering mental imagery. This LP has warranted many repeated listens, but I think more than anything, this record deserves a spot on my list because it's interesting and different -- punk-wise, nothing is really comparable. Respect to these psychedelic black sheep.

5. Pura Manía: Cerebros Punk 12" - Definitely a record that I almost had forgotten was released in 2017 because it was released so early in the year. But also, I feel like Pura Manía is such a favorite between all of us here at Sorry State and is so a part of the store's atmosphere that it feels as if this record has been around a lot longer. When looking for musical comparisons for Pura Manía, a reference we always throw out is New Age-era Blitz, but I think that is due in part to the band having an intangible and instantaneous "classicness" about them. In an era where melody and an air of genuineness are hard to come by, Cerebros Punk delivers something great and true.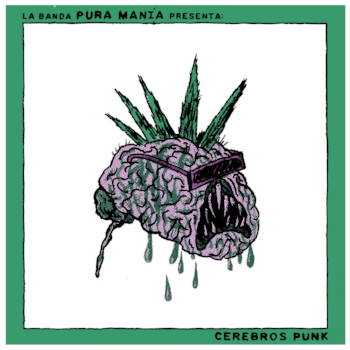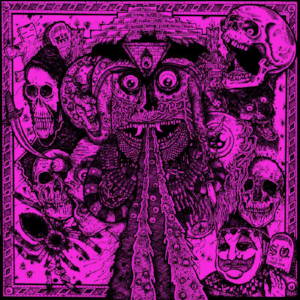 6. Tarantüla: S/T 7" - While the post-Cülo band provides a similar cartoony, tongue-in-cheek aesthetic and sense of humor, Tarantüla I feel really made an effort to create a sound and personality to distinguish themselves from their previous band. They also recorded one hell of an EP. The tunefulness and hooks are pretty undeniable, but the chorusy guitars and mood give this record a unique character. Still manages to be fun though, which was a breath of fresh air for 2017.

7. Katastrof: S/T 7" - I honestly think I'd be disinginuous if I decided not to include the debut EP by Katastrof, which is fronted by the former vocalist of Totalitär, one my all-time favorites. While this style of Swedish hardcore/d-beat/whatever you wanna call it has been imitated time after time, there's something about these lifers delivering it the good old-fashioned way that's refreshing to me. This slab is a rager, hands down.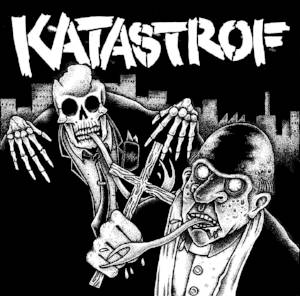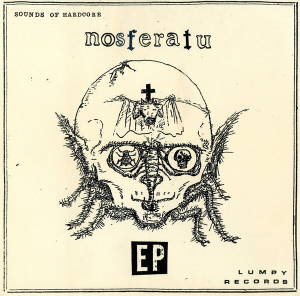 8. Nosferatu: Sounds of Hardcore 7" - There seemed to be an undercurrent in 2017 of younger bands discovering unhinged, fast-as-fuck 80s hardcore a la Koro, Deep Wound, and the like. Among a lot of bands being influenced by this sound that had releases this year, Austin, TX's Nosferatu was at the top of the heep in my book. All power, all speed, all fury. Watching this band play live was absolutely explosive. I can only hope to anticipate more blood curdling hardcore like this for 2018.

9. Nurse: S/T 7" - Atlanta's Nurse have been around for a few years now, and since the first time I heard them, they have undergone some changes in terms of the lineup and the sound of their music. This EP is their second proper vinyl release and a strong evolution where I think they really nailed it, like all their previous releases were steps that would culminate on this EP. Nurse perfectly blends rage and intensity with a haunting sense of dissonance and melody in the guitar work. The disparate elements of Nurse's sound are put together in a clever execution, but the weirder elements don't turn me off because the songs are still delivered with so much piss and vinegar. Great EP.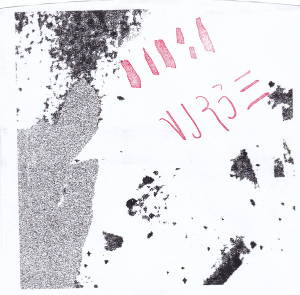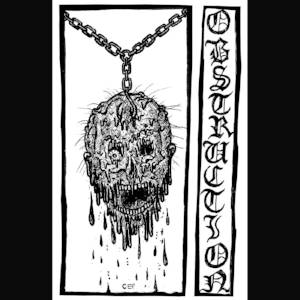 10. Obstruction: Demo 7" flexi - Kind of the sleeper hit amongst my picks, I think this Texan band deserves way more attention. Not unlike some of their motörcharged neighbors, Obstruction deliver blazing hardcore that is tight, powerful, and vicious. Somewhere between Scandinavia and late-80s Poison Idea, I think this ripper is one of the better all-out hardcore records of the year.



Honorable Mentions:

-Exit Order: Seed of Hysteria 12"
-Blank Spell: Miasma 12"
-ISS: Endless Pussyfooting 12"
-Paranoid: Praise No Deity 7"
-Innocent: Power Hungry and Mindless CS
-Aggression Pact: Instant Execution 7"
-Machine Gun: 10 Hardcore Tracks 7"
-D.O.G.: Declaration of Genocide 7"
-Rata Negra: Oído Absoluto 12"
-U-Nix: S/T 7"
-Criaturas: Ruido Antisocial 7"
-Wiccans: Sailing A Crazy Ship 12"
-Rashomon: Demo 7"
-Testa Dura: Lotta Continua 7"

And let's face it, there's probably a lot more releases that I'm either forgetting or am too lazy to mention.
---
Now that I've talked about some slabs that we've had all year to digest, let's check out some new records:

Sunshine Ward: Nuclear Ambitions 12" - After a blazing LP on Feral Ward in 2017, Sunshine Ward start off 2018 right with another blazing 10 tracks of Swedish style mayhem. This Boston band's previous record had a cleaner guitar sound which brought to mind Bloodkrow Butcher and other similar bands, and while you can expect the same raging style of hardcore, this time Sunshine Ward sound noisier, heavier, and more pissed. Highly recommended.


Solid Space: Space Museum 12" - I remember when I discovered this UK minimal synth band a number of years back. I remember thinking the songs were really good, but at the time I don't think I realized that this recording was considered legendary, especially for only originally being released in cassette format. I came to learn that many have bootlegged this landmark of synth poppy goodness, and that these bootlegs have gained a lot of controversy. But finally, an official vinyl release of this gem is finally available!


Impulso: S/T 7" - First vinyl release from this Italian raw punk band. Impulso are barreling within the first ten seconds, one minute it's a chaotic mess of cavernous noise, the next a pummeling assault. More-so than classic Italian punk, Impulso kind of reminds me of Spanish bands like Destino Final or Una Bestia: vocals with tons of delay, groovy pogo-beat song structures and a dense, powerful recording. This slab is a crusher.


Public Acid: 5 Songs Promo CS - Love when local people do cool stuff! Not sure if Chubb will even talk about his own band, but people should be aware that we have these tapes. This is the first proper release from NC hardcore punk band Public Acid. Featuring 5 tracks from an upcoming vinyl release some time later this year, this is some seriously crushing, noisy d-beat influenced rage. Listen below, it's not anywhere else online ;)
---
I've got a few things to plug on the personal front this time around. First of all, just wanna mention that a couple of my bands just got done recording new material. Scarecrow just got done recording a super raw 4-track recording that will hopefully be released as a proper demo tape some time soon. Vittna just recorded a bunch of new songs with Ian from Natural Causes, which will hopefully be for a 7" further in the future than I would prefer...
There's a few cool shows coming up in NC to check out:
2/2/2018 - J20 Benefit @ Nightlight
2/4/2018 - Mammoth Grinder @ Maywood
Also, Drugcharge is playing a WKNC (Raleigh's college radio station) benefit show, which I'm sure will be a hilarious scene. Also, coming up at The Bunker on Feb. 23rd, Witchtrial will be playing. A lot of familiar faces from the DC, NY and Boston areas. I'll link an event page in my next blog most likely. If you haven't heard them check 'em out below:

I think that'll do for this round. As always, thanks for reading!

'Til next time,
-Jef Lep