Punk Rock Origin Story!
Not as Interesting as Wolverine's.
(This post's title image is of Drugcharge at The Bunker a couple of months back)

1A.

In 10th grade chemistry, I sat behind this guy Nick. He rarely spoke, but was a considerable force in the jazz band. Pretty much every other day, he wore this well-worn, very faded t-shirt. For the entire semester, I stared at the design like it was a Rorschach test, trying to determine what it was — and how it made me feel. After a few weeks of squinting, I went wide-eyed: it was an illustration of a cop, with a massively erect penis, and that penis had semen dribbling down its tip. Along the side, were the words "Born Against."

A couple of years prior, there was a small hoopla in American schools over the banning of Bart Simpson t-shirts. The character was too provocative, and it sparked off a discussion on dress codes and offensive clothing that just seemed an extension of the PMRC's victory march after getting Parental Advisory stickers on record albums. Stickers that I used as a guideline on what albums to buy; transgression was such an easy disruption to suburban malaise. So here was this kid wearing probably the most offensive shirt in school, and getting away with it. Color my curiosity piqued.

"They're a band," said Nick, when I finally asked him about the shirt.

2A.

I shared a locker with my friend Brian, who played varsity soccer. We traded mixtapes, and once he made me a Nation of Ulysses t-shirt in where he hand lettered the emulsion onto the screen. One day, he showed up with these photocopied magazines passed down from his brother, called Eye-5. I took them home and read the band interviews, essays, and reviews, all done by this former student named Jeff. His address was on the back of that zine, so I wrote him a letter.

Jeff wrote back. He was pretty flattered that his zine was still being passed around the halls of his old high school, and gave me tips on how to start my own. He also sent me a mixtape, which Brian and I swapped back and forth, and set the direction of my musical appetite for the next couple of years. Soon after, Jeff called, and asked if I wanted to tag-along with him at a show.
Me: "Dad? Can you give me a ride to see some bands?"
Dad: "Sure, what kind of music is it?"
Me: "Esso Asso and Suppression. It's called powerviolence."
Dad: "I think you should have your friend pick you up."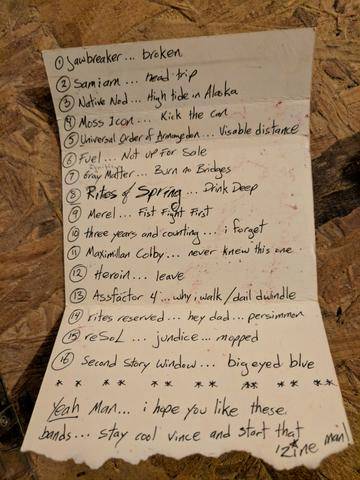 Jeff's mixtape
3.
Having immigrant parents didn't provide the best compass for cultural relevance, so pop music was something I latched onto hard. First, as a way to fit in. Then, an avenue to carve out an identity.
Unlike a lot of punks, I never went through a metal stage. Growing up in the suburbs, I related metal (and, oddly enough, country) to the white kids who stole my tofu lunch and said, "Look, this nerd eats dogs. Gross." then throw it away. So, with any disillusioned minority, rap spoke to that alienation. It wasn't long until my worlds of Asian American Youth Group, basketball, and hip hop had this strong, existential parallel towards baller materialism where I started looking elsewhere.

The crux of my formative punk rock adolescence was setting: Enloe High School. Located in a (then) rough (now gentrifying) neighborhood in Raleigh, North Carolina, this magnet school for the arts provided a public school for the local neighborhood, as well as busing in a little under half of its students from suburban and rural locales. Enloe was a successful integration experiment, creating this diverse student body that was a melting pot of cultures and class and race – something I didn't appreciate until I entered college and made friends from other high schools.

By 1994, Nirvana had come and pretty much gone, blowing a massive hole in pop culture. While "alternative music" was mainstream everywhere, lots of the artsy, intellectually curious kids at Enloe went deeper. It was a school that celebrated nonconformity, rather than cast it out. That post-Nevermindfeeding frenzy of indie bands left an undertow of prolific activity in the underground scene, and being the tail end of Generation X, there was a lot of music to consume.

When Fugazi played Raleigh, it was an event. We had a teacher that wore Archers of Loaf t-shirts. Another teacher's car had the license plate "SKAMUSIC." The captain of the soccer team was way into Gravity Records bands. Someone I rode the bus with introduced me to Jawbreaker. A classmate saw my Deadguy t-shirt, and made me a mixtape basically to convince me to stop ordering from Very Distribution and start ordering from Vacuum. Every day, there was at least one person wearing an Operation Ivy shirt. Once, while making small talk with an opponent at a county chess tournament, she asked, "Oh, you go to Enloe? Doesn't everyone there have blue hair and piercings?"
4.
Outside of high school, it's worth noting that there was an immense privilege of growing up in close proximity of the college town music scenes of Raleigh / Durham / Chapel Hill. All three were fertile with bands and venues, with competitive rivalries to match college basketball — Chapel Hill being on top, as the success of Superchunk and Merge Records warranted the town being dubbed, "The Next Seattle," by the music press.
1B.
About a week after asking Nick about his shirt, I went down to Schoolkid's Records on Hillsborough St. and picked up Born Against'sThe Rebel Sound of Shit and Failure. At home, I put it on, and the t-shirt fit the music. It was this ugly sound, devoid of melody, and carried this invigorating velocity. This was not the punk I was accustomed to. I turned it up.

My Mom was not pleased. Worried that this could be the satanic stuff they get shrill about onA Current Affair,she asked my Dad to look into it. He sat me down, and we listened to it while he reviewed the liner notes. My parents never "banned" me from listening to anything, preferring philosophical conversations on what it all means. I thought for sure this was going to be a first. My Dad handed the liner notes back.
"Are you going to take it away?"
"Of course not. In fact, I really like a lot of what they have to say. You should listen to them."
2B.

I ran into Brian last year, at a Milemarker show in Chapel Hill. He was there was his little brother, who I hadn't seen since he was ten years old and playing with a jump rope on his parents' front lawn. Upon our introduction as full-fledged adults, he was immediately stoked. Apparently, the mixtapes I had given Brian in high school were passed down, and heavily informed his own musical upbringing. He thanked me for that, which was pretty flattering.
That reminds me, Brian gave me his number that night. I should call him so our kids can have a playdate or something.
Projects to Plug:
There was a recent LP reissue of Racetraitor'sBurn the Idol of the White Messiah,and it came with a retrospective zine. I contributed an essay, but I'm not sure if it's in there because that thing sold out real quick. HMU if you want to sell me one.

I wrote the majority of this on the weekend of Riot Fest in Chicago, IL where Jawbreaker played a reunion show. My friend Drew asked some pals to write some reflections on the band, seen here.
A Random Summary of What I've Been Enjoying in 2017 So Far:
Bat Fangs: Wolf Bite / Rock the Reaper 7" (self-released)

Betsy Wright (Ex Hex) and Laura King (ex-Flesh Wounds) pack a ton of wallop for duo. I thought this slab of riff heavy, pop rock'n roll would tide me over until new Ex Hex material, but I think it just started an entirely new affair.
Vince Staples: Big Fish Theory (Def Jam Recordings)

As an album, it's not as consistently enjoyable as the murky Summertime '06, but there are some serious ragers on here. "Big Fish" and "Bag Bak" are the obvious singles, but "Yeah Right" certainly answered my daydream of "What would Kendrick Lamar sound like with Vince Staples' production team?"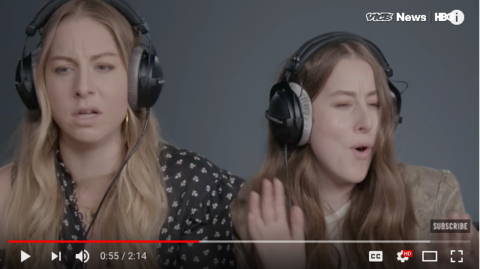 (I don't know anything about this band Haim, but they do this thing on Vice where they review songs. "Yeah Right" was on there, and look at that reaction. On the left is the face of someone who is having their cerebellum detach from their spinal cord like inThe Thing)
Open City: s/t LP (self-released)

It's no doubt the aughts brought a proliferation of decade-specific hardcore revival bands, but this is the first of "We'll do 90s hardcore, but more specifically, we're going to capture the chaotic fury of the Sarah Kirsch sound." The production is way slick, but consider the pedigree: Bridge and Tunnel, Ceremony, Kid Dynamite, Lifetime, Paint it Black, Ted Leo and the Pharmacists, Titus Andronicus, and Worriers – enough to warrant waxing nostalgic.
Konvoi: Secretary / Matador (self-released)

Now sans guitarist, these Ashevilleians scrapped their entire catalog and have two new gems. It's a big departure: they've eschewed the choppy noise for ethereal textures, dramatic dynamics for subtle pop hooks, and angsty screaming for a debonair chill. And yet, it's still post-punk.
Haldol: The Totalitarism of Everyday Life LP (World Gone Mad Records)

Haldol remind me of some kind of Cronenberg creation: each monster exists in different contexts, but there's familiar parallels in effects and mutation. Regardless, it's still jarring. The new LP a non-stop smoker – it veers to unpredictable places with absolute control.
Impalers: Cellar Dweller LP (Magic Bullet Records)

I do this weird thing where I listen to the first five seconds of this record on repeat. It opens so intensely, it sounds like an asthma attack. Then it finishes with a song I never want to end. Put that in your pipe and smoke it.
ISS: (Endless Pussyfooting) LP (Erste Theke Tonträger)
Preface: I can't remember if I ever wrote up this anecdote inHeartattaCk,but that was, like, eons ago and punk rock memory is fleeting.

For a few years around the turn of the millennium, I did a specialty show on NC State's WKNC 88.1FM called Out of Step on Saturday nights, from 6pm to 9pm. The station had undergone a controversial format change, shifting its daytime rotation from a primarily metal format to a CMJ-friendly college alternative. "The Revolution," was what Program Director Joe Ovies eventually coined it, which the station still uses today.

The daytime metal rotation and the evening alternative format, Nightwave, were addled by major labels, pushing bands on the third outing of their seven-year record deal, stuck in a waning purgatory of underselling The Ritz every year. There was a vast ocean of independent music that the station was ignoring, and I tried to fill that void with Out of Step.

It was a massive gap. A typical playlist would connect Born Against to Built to Spill through The Butchies, a riddle I would answer with C.R.'s cover of Team Dresch's "Hate the Christian Right," which I'm sure was an awful tonal shift for listeners, but I was big on the inclusivity and community of underground rock. Or, I was a contrarian jerk, like when someone called in for music to shoot heroin to, and he got Earth Crisis' "New Ethic," followed by The Softies "Tracks and Tunnels." He called back, saying The Softies was perfect.

At WKNC, part of the training to be a new DJ involved shadowing shifts. I had this one trainee – let's call him Ronald – whose impressionable ears were bridging the gap of Warped Tour pop-punk to the burgeoning emo of the time. He was a nice kid, really enthusiastic and learned quickly.

Our shift crossed its 9pm ending mark into The Underground, WKNC's hip hop show. The Saturday night personality, D-CUTTA, was usually about 10-15 minutes late to his shift, so I'd pad his absence with crossovers (stuff like Dalek, Dub Narcotic, or Rob R Rock's animal rights rap at the end of the Voice of the Voiceless compilation), or pull 12"s from the current Underground rotation, knowing it was already vetted for on-air play. This night happened to be the latter, so I pulled a stack of hip hop records and hoped D-CUTTA was just stuck in traffic.

"WHAT THE HELL ARE YOU DOING?" screamed Ronald.

"It's 9pm. Our shift is over, and KNC plays rap music after 9pm. This is the new Nas single. It's not very good, is it?"
Ronald had transformed from dutiful emo kid to self-righteous blowhard. "This music is garbage. Rap is nothing but black people bragging about how many bitches they've fucked and all the money they've made. They don't even sing or play any instruments."

Racist tirade aside – I'm hoping in 2017, we can just let that prejudice hang him on his own words – the argument on DJs and sampling vs. original music was still heated far through the aughts, culminating with Don Henley suing Frank Ocean in 2011 for not just sampling "Hotel California," but singing over the whole instrumental track.

Aside: While audacious, Ocean's "American Wedding"is still not as funny or as poignant as Ghostface's "Holla," which is just him rapping over The Delfonics' "La-La Means I Love You," in its entirety,includingthe vocal track.

Anyways, the attitude that hip hop and electronic music isn't valid from its lack of instrumentation still pops up from the errant punker spewing bile or on YouTube comments for DJ Khaled videos. It's as embarrassingly out of touch as how the Grammys still distinguish between genres like "rock/pop" and "urban," and think no one hears that dog whistle.

So, that's why I think you should get the new ISS record.

Epilogue: This was intended to be an actual BLAG entry a few months back, so this review refers to the cassette version of this release. But it's funnier as a description, and helps clear out my Drafts folder. Toodles!