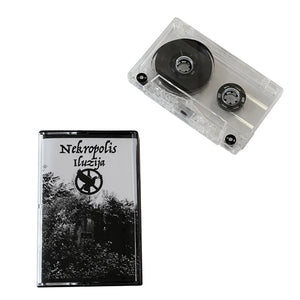 An anti-war and anti-military themed release.

All music and lyrics written and recorded during six practice sessions, Spring 2021 in San Francisco, California.


Our take: Nekropolis Iluzija self-describes this release as anti-war and anti-military themed. And at first glance, this cassette's bleak, black and grey cover art along with peace punk symbolism led me to assume that this tape would sound like crust punk. But within 10 seconds of hearing the first song, it was clear that rather than guitar-heavy crust, this tape is a synth-laden electronic project. While this band is based out of San Francisco, none of the lyrics are in English. I believe the band's name translates to "Necropolis Illusion" from Croatian, which is fitting, because their sound is totally reminiscent of 80s Eastern European coldwave and post-punk. The sparse, cold, but decidedly musical song structures are well crafted, and dense with electronic textures that feel authentically vintage. This tape sounds like a tribute to 80s minimal synth and coldwave that is so well done that it's almost surgical. The lo-fi, mechanical drum machine is drenched in sweeping, high-pitched synth melodies that sit blaringly loud in the mix. While I don't understand the words, the vocals are the focal point and have some surprising moments where they shift from restrained invariability to spine-chilling whispers to intense aggression. They sneak in an interesting cover version of a song by Serbian hardcore band Proces, which is a cool little thematic nod to the Yugo area. A must have for those anticipating the stark cold of winter.